Golden Rule
A group of people of different religions, races and ethnicity served as the backdrop for the inscription "Do Unto Other As You Would Have Them Do Unto You." Rockwell was a compassionate man, and this simple phrase reflected his philosophy.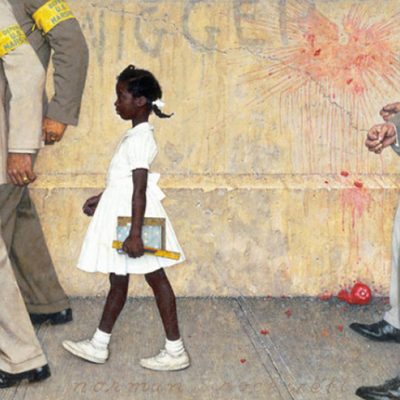 The Problem We All Live With
Rockwell's first assignment for Look magazine was an illustration of six-year-old African-American schoolgirl Ruby Bridges escorted by four U.S. marshals to her first day at an all-white school in New Orleans. Ordered to proceed with school desegregation after the 1954 Brown v. Board of Education ruling, Louisiana lagged behind until pressure from Federal Judge Skelly Wright forced the school board to begin desegregation on November 14, 1960. Today, the painting remains one of Rockwell's most enduringly poignant images of American culture.